Co-working spaces are no longer just a place to rent a desk, they are a community of like-minded individuals and businesses working together to achieve their goals. 
One of the key benefits of co-working spaces is the variety of office options available to suit different needs and preferences.
In this article, we will explore the different types of coworking spaces and how they cater to different work styles.
The Collaborative Haven – Open Coworking Space
Open Coworking Spaces are designed for freelancers, remote workers, and small business owners who thrive in a collaborative and dynamic environment. It's a perfect place to share ideas, network, and find inspiration from like-minded individuals. 
The open office layout provides an atmosphere that fosters creativity and innovation. In an open co-working space, you can rent a desk or a chair, making it a cost-effective solution for entrepreneurs and small businesses. 
The open coworking space also provides access to common areas such as the kitchen, lounge, and meeting rooms.
The Focus Fortress – Private Offices
A sanctuary for those who value their focus and concentration and need to avoid distractions. It's an enclosed space that's dedicated to you or your team, providing privacy, quiet and the perfect work environment. 
You can decorate and personalize your office as per your preference, giving you a sense of ownership over your workspace. 
A private office provides a professional atmosphere for meetings with clients. It is perfect for companies that value privacy and confidentiality.
The Productivity Pod – Dedicated Desk
A dedicated workstation in a shared office environment provides the perfect balance of collaboration and concentration.
The dedicated desk is reserved for a specific individual or team and can be personalized with items such as a desk lamp, plants or pictures. 
A dedicated desk is a cost-effective alternative to a private office, while still allowing for the energy and collaboration of a shared space.
The Meeting Room
Whether it's for an important meeting, interview or presentation, these well-equipped spaces cater to businesses that value professionalism and organization.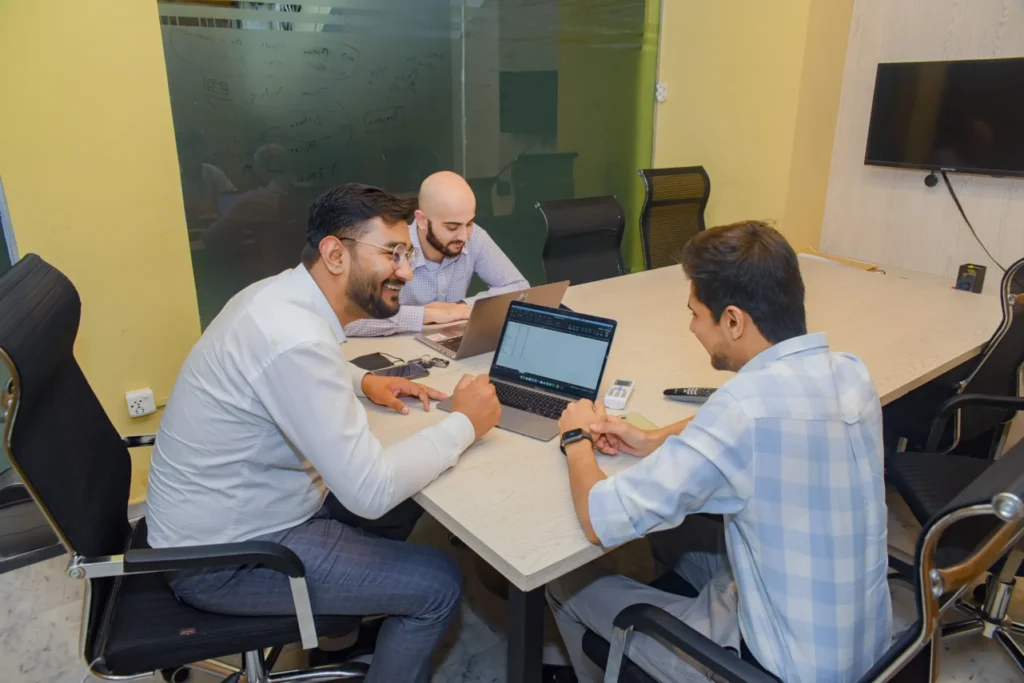 Meeting rooms come in different sizes and can be equipped with different amenities such as a whiteboard, projector, and conference call facilities. Furthermore, it allows for a comfortable and professional environment for meetings with clients and team members.
The Virtual Vanguard
Virtual Office- A service that allows businesses to have a professional address and phone number without physically being present in the office. 
In addition, a Virtual Office is a cost-effective solution for businesses looking to expand their reach and presence in a certain area. It includes mail and package handling, call forwarding, and a professional receptionist to answer calls on behalf of the business. 
A virtual office can be a cost-effective solution for businesses looking to expand their reach and presence in a certain area without the need for a physical office space. 
The Hybrid Haven
Hybrid Offices – Combining the energy and community of a co-working space with the privacy and focus of a private office. 
A perfect solution for businesses that value both collaboration and concentration is the hybrid office. It offers the energy of a coworking community and the privacy of a private office, catering to businesses that value both collaboration and concentration.
The Networking Nest – Event Spaces
Event Spaces are designed for hosting events such as conferences, workshops, and networking events. Also, they are equipped with different amenities such as AV equipment, lighting, and catering facilities. 
These types of coworking spaces are perfect for businesses that value networking and expanding their reach. These spaces provide a professional and comfortable environment for hosting events, allowing businesses to expand their reach and network with other professionals in the industry.
WorkZone Spaces offers a variety of options from shared offices to private suites, catering to the needs of all professionals.
Don't wait, book your space now and experience the difference at Workzone Spaces!