Any coworking space should have networking opportunities because they provide a special chance to meet people who share your interests and develop lasting bonds that can aid in your goal-achieving.
Whether you're a small business owner, freelancer, or entrepreneur, networking is a useful technique that may help you expand your contacts, develop your abilities, and uncover new opportunities. However, it might be difficult to know where to begin, particularly in a dynamic, fast-paced coworking setting.
We'll provide you with seven tips to improve your networking skills in a coworking space. By heeding these recommendations, you may make the most of your coworking experience and create lasting friendships.
Be Present and Engaged
Being present and active in the coworking space is the first and most crucial step in networking. This entails being receptive to meeting new people, taking part in occasions and activities, and contributing to the neighborhood.
When dealing with others, it's crucial to pay attention to your body language, tone of voice, and the words you use since even seemingly insignificant elements can have a big impact on how people see you.
Read: Why Working From Home Doesn't Work for Many Employees?
Attend Networking Events and Workshops
The majority of coworking spaces include a range of training and networking events that offer a great chance to meet other business people.
These events, whether they are social get-togethers, educational seminars, or business workshops, are intended to connect individuals.
You may network with other professionals, pick up new skills, and meet new people by going to these events.
Join a Community Group or Club
Joining a club or community group at your coworking space is a great opportunity to meet others who share your interests and develop relationships.
These communities offer a place for people to congregate, share interests, and connect with one another, whether it's a book club, a fitness class, or a hobby group. You can increase your network and develop solid, meaningful relationships with other professionals by joining a community group.
Offer Your Skills and Expertise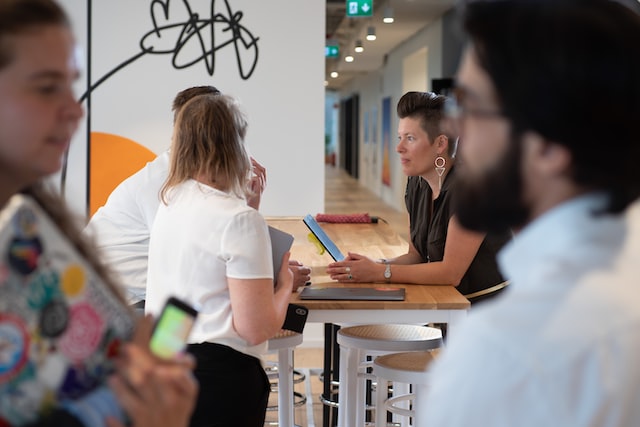 Offering your knowledge and abilities to others is one of the finest ways to network in a coworking environment. By volunteering your skills and knowledge, you can establish trust and forge deep relationships with others, whether it's by assisting someone with a project, giving advice, or just being a sympathetic ear.
Get Involved in the Coworking Space
Getting involved in the coworking space is an excellent way to network and build relationships. Whether it's volunteering for events, participating in initiatives, or simply helping with tasks around the space, getting involved in the community can help you connect with others and create a positive impression.
Utilize Technology and Social Media
Technology and social media can be powerful tools for networking in a coworking space. Whether it's through email, LinkedIn, or other social media platforms, utilizing technology can help you connect with others, share information, and build relationships. By leveraging technology, you can expand your network and connect with individuals from all over the world.
Be Authentic and Genuine
Finally, it's essential to be authentic and genuine when networking in a coworking space. People can tell when you're not being genuine, and it can be challenging to build meaningful connections if you're not being yourself. By being authentic and genuine, you can create trust and build strong, lasting relationships with others.